WiFi+BT combo PCIe cards need a USB connection to enable the Bluetooth function on the card. The PCIe bus does not have USB paths, so PCIe WiFi+BT combo cards have a cable that connects from the card to the computer's internal USB header.
This Dual Band BCM94360CS2 PCI-E 867Mbps 802.11AC BT4.0 Wifi PCI-Express Adapter Card
is one example, which works perfectly with hackintoshes.
The Dell Optiplex 9010 Small Form Factor does not have an internal USB header. A solution is to connect is the card to an external USB port. I was inspired and followed this excellent guide
[Guide] Install High Sierra or Mojave on the Dell Optiplex 7010 / 9010 Desktop PC - Revision II
for the Optiplex 9010 SFF build which necessitated this solution.
There are (at least) three cable solutions:
1) Add an extra internal USB 2.0 header.
@trs96
posted a good description of this
here
.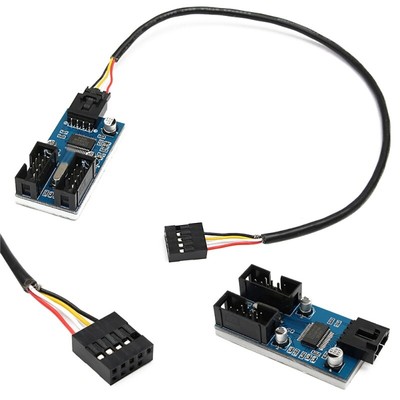 One Head connect to motherboard 9pin(10pin) port, the other side split to 2x 9pin(10pin). 9Pin Motherboard Extension Board 1 to 2 USB Port Splitter Ports Multiplier. This 9pin extension board can be split one USB port to two USB ports.
You can route the cable through an open backplate or cut an opening into the back vent grate.
2) Add a single USB connection using a cable that has USB A to USB 9-pin made header, like this
one
. I wrote a post about it
here
.
You can route through the case by the following the method in this
post
.
3) You can build your own cable!
Take an old USB cable and cut it to be about 8" long from the USB A connector.
Strip back the outer casing, exposing the four wires inside the USB cable.
USB A cables have 4 wires. If the cable follows the standard wiring coloring, the USB data lines are White for DATA- (D-) and Green for DATA+ (D+), Red for +5V, and Black for Ground. Do NOT cut the USB A connector back; this was done in this image (not mine) for illustration purposes only.
The BT->USB connector on the WiFi+BT combo card is a JST 1.50mm 4-pin male connector. Purchase some
JST 1.50mm 4-pin female connector pigtails
(or assemble your own if you wish.)
These are double connector. Cut them in half. Twice the number of pigtails!
Now for assembly.
Now, you can solder, if you have the tools and skill.
Or you can use telephone splice connectors!
You do NOT need to connect the Red and White wires on the JCT ZH 1.50MM pigtail. I used electrical tape and taped them to the backside of the WiFi+BT combo card. ALSO, carefully bend back the USB cable Red and Black wires onto the USB cable and tape each one separately. The USB Red carries +5V, and the Black is ground; make sure they are covered electrical tape or shrink tubing to ensure they don't accidentally touch anything.
And here is the end result.
Last edited: