MikeLanding Build - GA-Z77P-D3 - i7-3770 - HD6870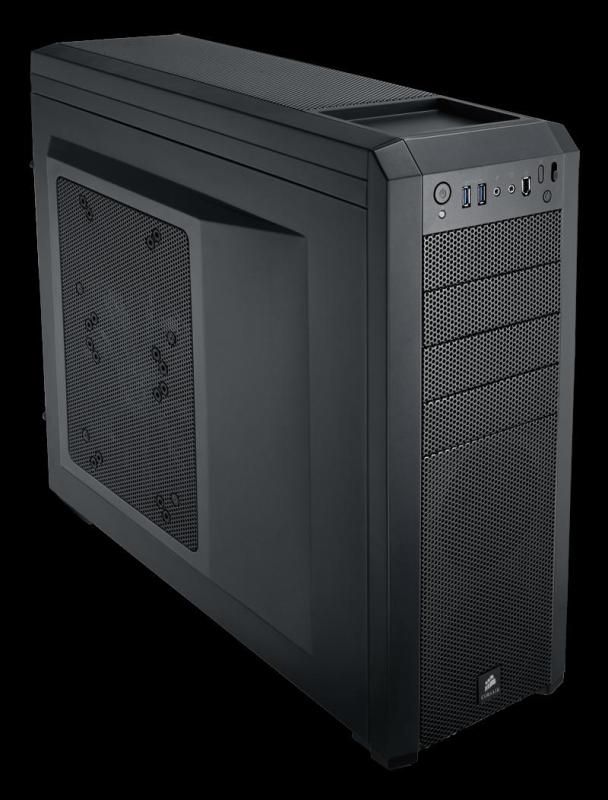 Components
Motherboard
: GIGABYTE GA-Z77P-D3, BIOS F6
http://www.jib.co.th/web/index.php/product/readProduct/7478/4/index.html
CPU
: Intel Core i7-3770 @3.4Ghz
http://www.newegg.com/Product/Product.aspx?Item=N82E16819116501
Graphics Card
: HIS Radeon HD 6870 1GB H687FN1GD
http://www.amazon.com/HIS-Radeon-DisplayPort-Express-H687FN1GD/dp/B005JXACYC
Monitor
: CROSSOVER 27" 27Q LED-P PIVOT DVI-D S-IPS 2560 x 1440 Monitor
New CROSSOVER 27" 27Q LED-P PIVOT DVI-D S-IPS 2560 x 1440 Computer PC Monitor | eBay
RAM
: 16GB DDR3-1666Mhz Corsair Vengeance Black (8GB x2)
http://www.jib.co.th/web/index.php/product/readProduct/7355/10/index.html
PSU
: XFX PRO650W Core Edition 80+ Bronze
http://www.jib.co.th/web/index.php/product/readProduct/7369/6/index.html
CPU Cooler
: Cooler Master Hyper 212 EVO
http://www.newegg.com/Product/Product.aspx?Item=N82E16835103099
Case
: Corsair Carbide Series 500R Mid Tower Gaming Case
http://www.newegg.com/Product/Product.aspx?Item=N82E16811139005
Wireless
: DIY (BROADCOM BCM94322MC WIRELESS N WIFI CARD) + mini PCI-E to PCI-E x1 wireless adapter with 2 antenna
BROADCOM BCM94322MC WIRELESS N WIFI CARD HP 487330-001 395514-001 MINI-PCI-E | eBay
mini PCI-E to PCI-E x1 wireless adapter with 2 antenna | eBay
Bluetooth
:Belkin USB Bluetooth dongle (Model: F8T016NG)
BELKIN BLUETOOTH USB DONGLE ADAPTER 10M MINI NANO 3MBPS V2.1 EDR PC MAC F8T016 | eBay
Apple OS X Mountain Lion @ Mac Apps Store
Mac App Store - OS X Mountain Lion
Already Owned
SSD
: Samsung 830 256GB SSD
Samsung 256GB 830 Series SSD with Internal Desktop MZ-7PC256D/AM
HDD
: SAMSUNG EcoGreen F2 HD154UI 1.5TB 32MB Cache SATA 3.0Gb/s 3.5" Internal Hard Drive
http://www.newegg.com/Product/Product.aspx?Item=N82E16822152175
Mouse
: Apple Magic Mouse
Mouse Ergo
: MMFixed
Magic Mouse, Fixed - MMFixed.com
USB DAC
: Fiio E10
Fiio : E10 | SanookGadget
Headphone
: Sennheiser HD558
Sennheiser : HD 558 | SanookGadget
Keyboard
: Apple Wireless Keyboard
Comments
:
This is my first Hackintosh build, so I'm proud of it.
My motivation to setup this build is because was intend to buy an iMac27 top spec. But it kept delay. No choice had to build a more powerful Mac.
I choose the motherboard because this is the closest motherboard that I can find in Asia region. I was looking for Z77P-DS3H but it is impossible to find in Thailand.
I purchased the graphics card because I want to play some games and it is very low price now. Got it at 5500 thai baht
The Samsung 830 SSD is perform very well. I wanted plenty of room for apps in addition to OSX, so I went with the 256GB. It is super fast and SSDs are really affordable now that traditional drives are so unusually expensive.
I choose to DIY my Wireless card because I can learn something from it. It worked OOB and good range.
I choose Cooler Master Hyper 212 EVO because it is a budget cooler and since I don't plan to overclock. This should be sufficient. The fan is a silent fan and also a little bit better then the 212+ version
Corsair Carbide 500R is a great case. It got 2 front USB3 ports (worked). Got good cable management feature. Can control 3 face speed (Low, Med, High). I turned it to low because I hate loud fan noise.
Installation
Preparation:
1.0 Purchase the OS X Mountain Lion Application from the Mac App Store
1.1 Create a Mountain Lion installer on USB-stick or HDD-partition with the new Unibeast 1.5 (Guide is
Here
)
ML Installation:
2.1 Remove Graphics Card and use motherboard graphics.
2.2 Reset Motherboard Bios to Optimised Setting
2.3 Make sure set SATA mode to AHCI
2.4 Boot ML Install USB with Boot Flags GraphicsEnabler=No and PCIRootUID=0
2.5 Run Installer, select your newly formatted disk and continue install.
2.6 Reboot off of USB installer and select Mountain Lion as boot source.
Post-Installation:
3.1 Download Chimera 1.11.0 and Multibeast 4.6.1
3.2 Run Multibeast options. Use the setting shown below
3.3 Now install Chimera 1.11.0, and make sure your org.chameleon.boot.plist looks like this:
Code:
<?xml version="1.0" encoding="UTF-8"?>
<!DOCTYPE plist PUBLIC "-//Apple//DTD PLIST 1.0//EN" "http://www.apple.com/DTDs/PropertyList-1.0.dtd">
<plist version="1.0">
<dict>
	<key>EthernetBuiltIn</key>
	<string>Yes</string>
	<key>GenerateCStates</key>
	<string>Yes</string>
	<key>GeneratePStates</key>
	<string>Yes</string>
	<key>GraphicsEnabler</key>
	<string>Yes</string>
	<key>Kernel</key>
	<string>mach_kernel</string>
	<key>Kernel Flags</key>
	<string>npci=0x3000 darkwake=0</string>
	<key>Legacy Logo</key>
	<string>Yes</string>
	<key>Timeout</key>
	<string>2</string>
	<key>UseKernelCache</key>
	<string>Yes</string>
</dict>
</plist>
3.4 Shut down the machine. Plug in the Ati 6870 card. Power on. A working ML Hackintosh machine.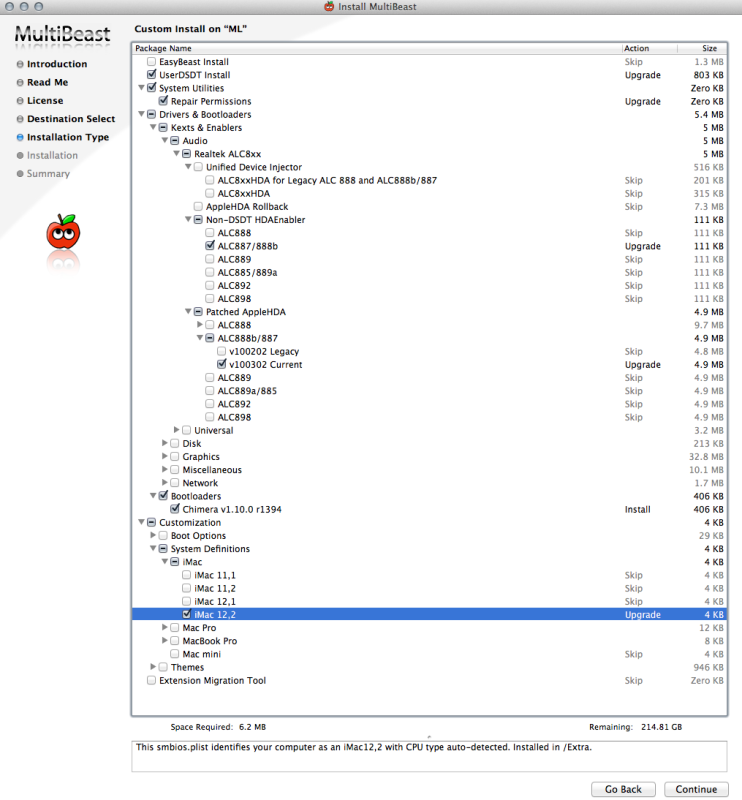 What's working GREAT
:
- Sleep: I using SleepEnabler.kext from:
SleepEnabler.kext.10.7.x-10.8.zip - xnu-sleep-enabler - SleepEnabler for 10.8 / 10.7.x - A kernel extension for the latest Apple Darwin XNU kernel, re-enabling sleep for generic x86 computers. - Google Project Hosting
I can goes to sleep with power button or select from Apple logo. All fans (CPU, Case, PSU) will stop spin after sleep. I can wake up from power button and Wireless KB.
- Bluetooth: Belkin BT F8T016NG work OOB. I can wake up the system from sleep using Wireless KB
- Build in LAN: Initially I have problem with it. It unable to reconnect and obtain workable IP address after disconnect. It is working now after I used the attached IONetworkingFamily.kext. Before install, Remove your existing kext and do not use the RTL81xx OS X Driver fromLnx2Mac. It just wont work for me.
What's not working
:
- AirPlay Mirroring

- Find my mac.​
Geekbench score (64bit):13971
iMac12,2 - Geekbench Browser