Components
Gigabyte Z390 UD LGA 1151 (300 Series) SATA 6Gb/s
https://www.newegg.com/p/N82E16813145095/
Intel Core i7-9700K 9th Gen 8-Core 3.6GHz (4.9GHz Turbo) Unlocked
https://www.newegg.com/p/N82E16819117958
Cooler Master Hyper 212 Black Edition 120mm CPU Cooling Fan
https://www.amazon.com/dp/B005O65JXI
https://www.newegg.com/p/N82E16819117957
Crucial Ballistix 2666 MHz DDR4 DRAM 32GB (16GBx2)
https://www.amazon.com/dp/B083TRRT13/
https://www.newegg.com/p/N82E16820164182
Samsung 860 EVO 500GB 2.5" SATA III SSD
https://www.amazon.com/dp/B0781Z7Y3S/
https://www.newegg.com/p/N82E16820147674
TP-LINK Archer T9E AC1900 Wireless Dual Band PCI Express Adapter
https://www.newegg.com/tp-link-archer-t9e-pci-express/p/N82E16833704241
Corsair CX Series 550 Watt 80 Plus Bronze Certified Modular PSU
https://www.amazon.com/Corsair-Bronze-Certified-Modular-CP-9020102-NA/dp/B01B72W0A2/
https://www.newegg.com/p/N82E16817139147
ATX Power Supply Mounting Bracket Horizontal/Long Gray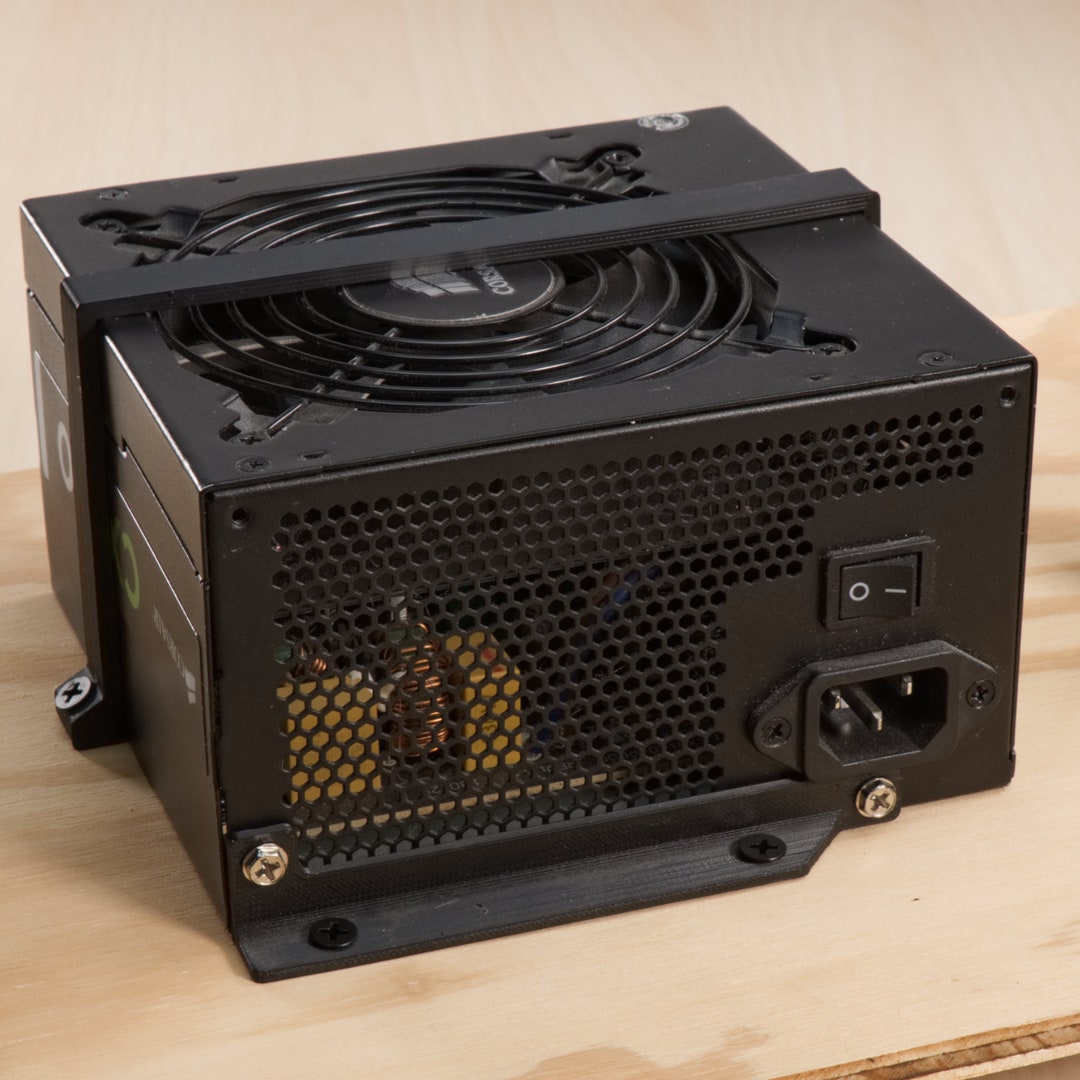 This Computers item by 3dshapeengineering has 75 favorites from Etsy shoppers. Ships from Sellersburg, IN. Listed on Nov 8, 2022

www.etsy.com
Noctua NF-S12B redux-700, 3-Pin, 700 RPM, 120mm Grey Case Fan
https://www.amazon.com/dp/B00L8IYCJI
https://www.newegg.com/p/N82E16835608059
ASUS VG245 24" Wide Screen Gaming Monitor
https://www.amazon.com/dp/B01JGYM5H6
https://www.newegg.com/p/N82E16824236755
Insignia USB Bluetooth 4 Adapter
https://www.bestbuy.com/site/insignia-bluetooth-4-0-usb-adapter-black/4884001.p?skuId=4884001
Insignia 12' 4K Ultra HD HDMI Cable
https://www.bestbuy.com/site/insignia-12-4k-ultra-hd-hdmi-cable-black/7097041.p?skuId=7097041
10' Computer Power Cord
https://www.amazon.com/10-Standard-Computer-Power-Cord/dp/B0002GRUIM/
OWC 2.5" to 3.5" Drive Adapter Bracket
https://eshop.macsales.com/item/OWC/SSD2535BKT/#owctabs
M3 Screws for SSD Adapter Bracket
https://www.amazon.com/gp/product/B072LNLFXV/
120MM Steel Mesh Filter Fan Grill Silver
https://www.coolerguys.com/products...eter-hole-black-or-silver?variant=17666418821
The Laser Hive ATX Low 120 Kit
https://thelaserhive.com/product/atx-low-120-kit/
The Laser Hive Front Panel Conversion Lian Li Kit
https://thelaserhive.com/product/front-panel-conversion/
Already Owned
AZIO MK Hue Black Backlit Mechanical Keyboard (Micro Center)

Apple Magic Trackpad 1 Model A1339 (Apple Store)

Kensington Mouse-in-a-Box USB 3-Button Model M01215 (Best Buy)

Apple Power Mac G5 Case - Early 2005 (eBay)
Comments
Background
This is
TonyMacX86's CustoMac Budget ATX Coffee Lake 300 build
. I followed the buyer's guide and only got major components that were listed on there (
https://www.tonymacx86.com/buyersguide/archive/coffee-lake-300-series/
). I opted to choose some components that were not budget minded (e.g., i7 instead of i3). In 2018, I tried to build my first Hackintosh but gave up during install. I decided to try again. The reason I started this build was because I could not run a high-end software instrument in GarageBand on my mid-2012 MacBook Pro. I compose classical music on the side. I need to be able to run dozens of instruments at the same time in the program. I did not purchase a graphics card due to mainly needing this build for GarageBand. I thought the components chosen by this site were a good fit for my needs. This build is inside an Early 2005 Apple Power Mac G5 case. My G5 conversion process is documented here:
https://www.tonymacx86.com/threads/g5-heavenly-build-laser-hive-low-atx-120-i7-9700k.312036/
.
Installation Notes
I ended up using OpenCore 0.6.7 after being frustrated with Unibeast 10.3.0/Clover 5122 verbose errors that I couldn't figure out. I installed OpenCore onto a 16GB USB 2.0 flash drive. The OS version is macOS Catalina 10.15.7 with APFS. I downloaded the full Catalina installer on my MacBook Pro.
Special component note: The TP-LINK Archer T9E AC1900 WiFi card uses Broadcom BCM4360. This works natively in Catalina.
UEFI BIOS Settings
1) Download latest BIOS firmware from Gigabyte and load onto USB flash drive.
2) Press and hold
Delete
while the system boots to access BIOS.
3) Click on
Q-Flash
on bottom right corner of screen, load firmware, and update BIOS.
4) Set BIOS settings as follows (what worked for me):
CFG-Lock:
Disabled
Super IO Serial Port:
Disabled
VT-d:
Disabled
CSM Support:
Enabled
XHCI Hand-Off:
Enabled
Legacy USB Support:
Disabled
Network Stack:
Disabled
XMP: Profile 1:
Enabled
UEFI Booting:
Enabled
Secure Boot:
Disabled
Fast Boot:
Disabled
OS Type:
Other
Platform Power Management:
Enabled
AC BACK:
Always On
Power On By Keyboard:
Disabled
Power On By Mouse:
Disabled
ErP:
Disabled
Initial Display Output:
IGFX
Internal Graphics:
Enabled
DVMT Pre-Allocated:
64M
DVMT Total Gfx Mem:
MAX
IO APIC 24-119 Entries:
Enabled
Security Device Support:
Disabled
Intel Platform Trust Technology (PTT):
Disabled
5) Save and Exit
Installation
Guide Links:
(Official OC Guide) https://dortania.github.io/OpenCore-Install-Guide/

I had a quick look over the official OpenCore Install Guide. I ended up identifying my "Mac" as an iMac19,1. There were a number of modifications I made to fit my particular system. These pertain to the Intel UHD 630 iGPU and my Bluetooth dongle (board doesn't have built-in Bluetooth). I will explain what these changes were. On the below list, watch the video to understand which drivers and kexts to download.

Initial install files (GitHub: Code>Download ZIP):
OpenCore https://github.com/acidanthera/OpenCorePkg/releases
ProperTree https://github.com/corpnewt/ProperTree
Drivers & Kexts https://dortania.github.io/OpenCore-Install-Guide/ktext.html#firmware-drivers
GenSMBIOS https://github.com/corpnewt/GenSMBIOS
MountEFI https://github.com/corpnewt/MountEFI
Hackintool https://ce05a305-2bad-44e3-9149-3538386d84d9.filesusr.com/archives/191c4b_c0fa53593ddb40c6beae7002a211d8b0.zip?dn=Hackintool.zip
OpenCore Configurator https://mackie100projects.altervista.org/download-opencore-configurator/
I have a PCI Express WiFi card and the board uses Realtek Ethernet. I used the RealtekRTL8111.kext from the Drivers & Kexts link above. The Intel UHD 630 iGPU will not fully work natively in Catalina 10.15.5 and later (doh!). Disable CFG-Lock in the config file. However, as I already noted, you get CFG-Lock (as well as Super IO) in the newest BIOS update for this board. So you can leave this option in the config file as
False
.
During the Catalina install,
DO NOT
log in with your Apple ID! If you do, Tim Cook will know you've been a naughty boy/girl! Once the serial number and UUID have been created, you want to check this against existing Apple serial numbers, go to
https://checkcoverage.apple.com
. If it can't find the serial number, you are good to go. When I tried the Clover install, I used a serial number generator. When I checked it with Apple, it was actually someone's serial number! Be careful.
Post-installation
Once you have successfully installed Catalina, you need to mount the EFI partitions of both the Catalina SSD and the OpenCore flash drive with MountEFI. Inside the Catalina SSD EFI partition, there should be a folder called EFI. You need to replace this with the EFI folder in the OC folder on the USB flash drive. Next, unmount the USB flash drive and shut down the computer. Unplug the USB flash drive and reboot. You should now be able to boot your Catalina install on its own.

Note about audio: After you've installed Catalina, just check to make sure your headphones, mics, and audio playback are working. I didn't run into any issues here.

It is now time to perform USB port mapping to comply with the 15 port limit and clean out extra board port possibilities that you don't need. Load the following guide: https://www.tonymacx86.com/threads/the-new-beginners-guide-to-usb-port-configuration.286553/.

Special note: With the front panel kit from The Laser Hive combined with the Z390 UD motherboard, there will be two unused USB 3.1 ports. There are four in the kit. You can choose which two you want to use. I chose the top two. I stuffed the unused connector up inside the top of the case.

The guide will say to reboot before step two. You may have a problem booting due to USBInjectAll. If this is the case, shut off the computer and plug in the USB flash drive. You should be able to boot using that instead.
| | |
| --- | --- |
| | |
At step five in the guide, you can use ProperTree's two snapshot features to update the config.plist so it shows the USBPorts.kext and not USBInjectAll.kext. Save the file.
Next, plug in a Bluetooth dongle. Go to System Preferences to see if you can spot the Bluetooth icon. If you can't, that means that it is not enabled. You can also plug it in during port mapping and should see if it shows up as active and what the device name is. It is possible for the system to recognize the dongle plugged in but for it not to work. If the icon is missing, you will need to make some changes to your system EFI. You will need to add three new kexts. Go to
https://dortania.github.io/OpenCore-Install-Guide/ktext.html#wifi-and-bluetooth
, and click
BrcmPatchRAM
. On the GitHub page, use the newest release and download the BrcmPatchRAM-_._._-RELEASE.zip. Open the downloaded folder and copy BrcmBluetoothInjector.kext, BrcmFirmwareData.kext, and BrcmPatchRAM3.kext to your Catalina SSD EFI's kexts folder. Next, open ProperTree and use the two snapshot features. The config.plist's kext section should show the three new kexts. Save the file. Reboot your Hackintosh with the Bluetooth dongle plugged in. Once you are logged in, go to System Preferences to check if the Bluetooth icon is present. If it is, you are done with that. If it does not work, your device is probably not supported. Go to
https://github.com/acidanthera/BrcmPatchRAM
and look for "BrcmBluetoothInjector supported devices". The Insignia Bluetooth 4 Adapter in this build uses BCM20702A0 and is compatible with BrcmBluetoothInjector.kext.
Finally, it is time to check whether the hardware acceleration is working. Click on the
Apple logo
on the top left of your screen. Click
About This Mac
. If you are using the same TonyMacX86 build that I am, it should say you have an iMac (Retina 5k, 27-inch, 2019). In
Graphics
, it should say Intel UHD Graphics 630. If it says you have 7 MB available, hardware acceleration is turned off. This means you can't play 3D games or use applications like iMovie. It is supposed to say you have 1536 MB available. This also means that you may see odd mouse related artifacts in the Finder menu and not be able to use the screen saver.
Some changes need to be made to enable hardware acceleration. Access OpenCore Configurator with your system config file and go to
ACPI>Patch
. On the bottom area, click the
List of Patches
dropdown. Select
Rename HECI to IMEI
and
Rename MEI to IMEI
. These should appear in the table above. Checkmark the boxes for these two patches under
Enabled
. Save your changes.
Next, Open your config file with ProperTree and go to the
Device Properties
section. You are going to input the correct iGPU data under the
Add
subsection. Review the below pic and add all of the entries exactly. Make sure the types are set correctly.
Reminder: These settings are specifically for an Intel UHD 630 iGPU and this build is using an Intel Core i7-9700K.



Add agdpmod=vit9696 to boot arguments in NVRAM via OpenCore Configurator or ProperTree as seen in below pic. This will disable the check for the board-id. This is a fix for a possible black screen on boot up after changes are made. Save your changes. OpenCore Configurator GUI note: Go to NVRAM; Look under UUID; Select the final option in the list for boot arguments.

Finally, it is time to check
Sleep
mode. Go to the
Apple logo
on the top left of the screen and select
Sleep
. Your Hackintosh should indicate that Sleep mode has started if the fans and monitor shut off. If you have a backlit keyboard, the key lights should also shut off. At this point, try clicking the mouse and pressing the keys on the keyboard to see if the computer wakes up. Give it a minute. If nothing happens, try pressing the power button once and waiting. You can also try manually restarting the monitor if the power light indicator is on on the computer. If all else fails, you will have to reboot. Once your Hackintosh has woken, use OpenCore Configurator or ProperTree to access the NVRAM boot arguments. Add a space to the end of the existing arguments and add
igfxonln=1
. This forces the monitor signal to be online so that the monitor can turn back on if Sleep mode is to be ended. This is especially useful for those like myself who are using an HDMI cable instead of another video signal option. Save your change.
In the final step, reboot and check whether the system says your iGPU has 1536 MB available. Additionally, check the screen saver and Sleep mode. If everything is working, you just need to replace your USB flash drive config file with the one from your system's EFI folder. After that, keep your USB flash drive backup somewhere safe. Enjoy your new Hackintosh!
Summary
All in all, this was a great system build. To plan everything, order the parts, build the G5 system, install the software, and do the post-install fixes took around three months off and on. I confirmed that the TonyMacX86 CustoMac Budget ATX Coffee Lake 300 build does work as a Hackintosh with an OpenCore install.
What Works
: Everything
What Doesn't Work:
Nothing
Benchmarks
Geekbench 5 CPU Scores

Geekbench 5 iGPU Score



Unigine Valley Benchmark Settings



Unigine Valley Benchmark FPS/Score

Additional Links
(Intel i7-9700K data page) https://ark.intel.com/content/www/u...9700k-processor-12m-cache-up-to-4-90-ghz.html
(Gigabyte Z390 UD specifications) https://www.gigabyte.com/us/Motherboard/Z390-UD-rev-10/sp#sp