szokeptr's X99 Build: Asus X99 Deluxe - Intel i7 5960x @ 4.2GHz - 64GB RAM - GTX 970
Components
Asus X99 Deluxe/U3.1
http://www.amazon.com/dp/B00TXBP1OW/
Intel i7 5960X
http://www.amazon.com/dp/B00MMLXIHM/
Corsair H110i GT
http://www.amazon.com/dp/B00SIKYZJ6/
Memory: 2 * Kingston HyperX 32GB DDR4 2133Mhz
http://www.amazon.com/dp/B00TPQPUPK/
Gainward GTX 970
Sorry, can't find it on Amazon.
PSU: Fractal Design Edison M 750W
http://www.amazon.com/dp/B00W79XQ58/
Case: CoolerMaster MasterCase Pro 5
http://www.amazon.com/dp/B013AY4V4S/
HDD: 2 * Seagate Barracuda 3TB
http://www.amazon.com/dp/B005T3GRLY/
SSD: 3 * Samsung Evo 850 PRO 250GB
http://www.amazon.com/dp/B00LMXBOP4/
Comments
Before building this computer I was using a 13 inch late-2012 retina MacBook Pro so it is a big step forward. My workflow is OS X exclusive, so the main priority was that it has to run OS X. I am a heavy multitasker so the 8 cores and the 64 gigs of memory are really a big help.
Few things that you better know before jumping into an X99 based hackintosh:
- there is no support from Apple for this platform, not until they release a refreshed Mac Pro with same/similar chipset. This means that you will need to patch your kernel in order to run OS X on it every time you install and/or update.
- if you go with the 8 core 5960x instead of the 6 core 5820K or 5930K you will be stuck on Yosemite (10.10.5) as there is no way to install El Capitan yet.
- be prepared that you will lose speedsteping and sleep mode in OS X as there is no native power management for these CPUs.
- patience is very important, depending on your hardware you will have to try a lot of different kernel flags, kexts and configurations.​
Everything works on my build, iMessage, Bluetooth, WiFi, audio etc. I am booting from a striped RAID of two 250GB SSDs and it's flawless, the speed of it is amazing. The system is very fast and stable even overclocked while being almost dead silent.
Installation
I followed rbbunmc's Older Install guide because the Aug 25 Install 10.10.5 was not working out for me. (
http://www.tonymacx86.com/yosemite-...us-x99-e-ws-clover-efi-sm951.html#post1069374
)
First I installed to a single SSD, then when it was stable enough I created a RAID0 array with Disk Utility and cloned the system to it. I installed Clover to one of the 3TB drives and copied the EFI folder in place.
For audio I am using VoodooHDA 2.8.7 from Multibeast, this is the only way audio is working for me. It has one glitch though: static noise that can be fixed by turning down 'Input Gain' in VoodooHDA preferences. This is a temporary fix, as it will be gone after a reboot. To make it permanent you have to edit the VoodooHDA.kext. I will update this post with a guide when I have time.
VoodooHDA Input Gain fix
Setting the input gain in VoodooHDA prefs on every reboot is a pain in the ass, but there is a 2 minute fix for it fortunately!
First find your loaded VoodooHDA.kext (there could be more if you messed a lot with your system) - for this we use System Profiler.
Step 1: Go to the Apple menu (top-left corner) then choose About this Mac. On the screen that appears click "System report…". In the System Profiler on the left hand side you will see a lot of options, choose Extensions (it'll be under Software). The list will take some time to load. After it's loaded find and click VoodooHDA, you should see something similar to this: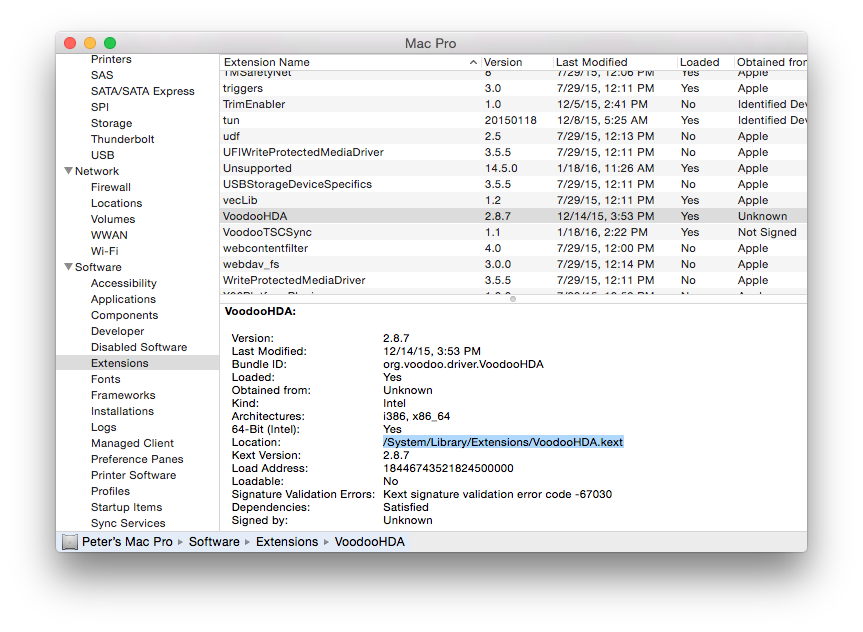 Now go to the folder where your working VoodooHDA is and copy the kext to the Desktop. Right click on it on desktop and click 'Show Package Contents'. Now navigate to Contents and open Info.plist in your favourite text editor. Look for the key 'MixerValues' and under it edit iGain and set it to 0. Save the file and use Kext Wizard to install the edited kext back in place.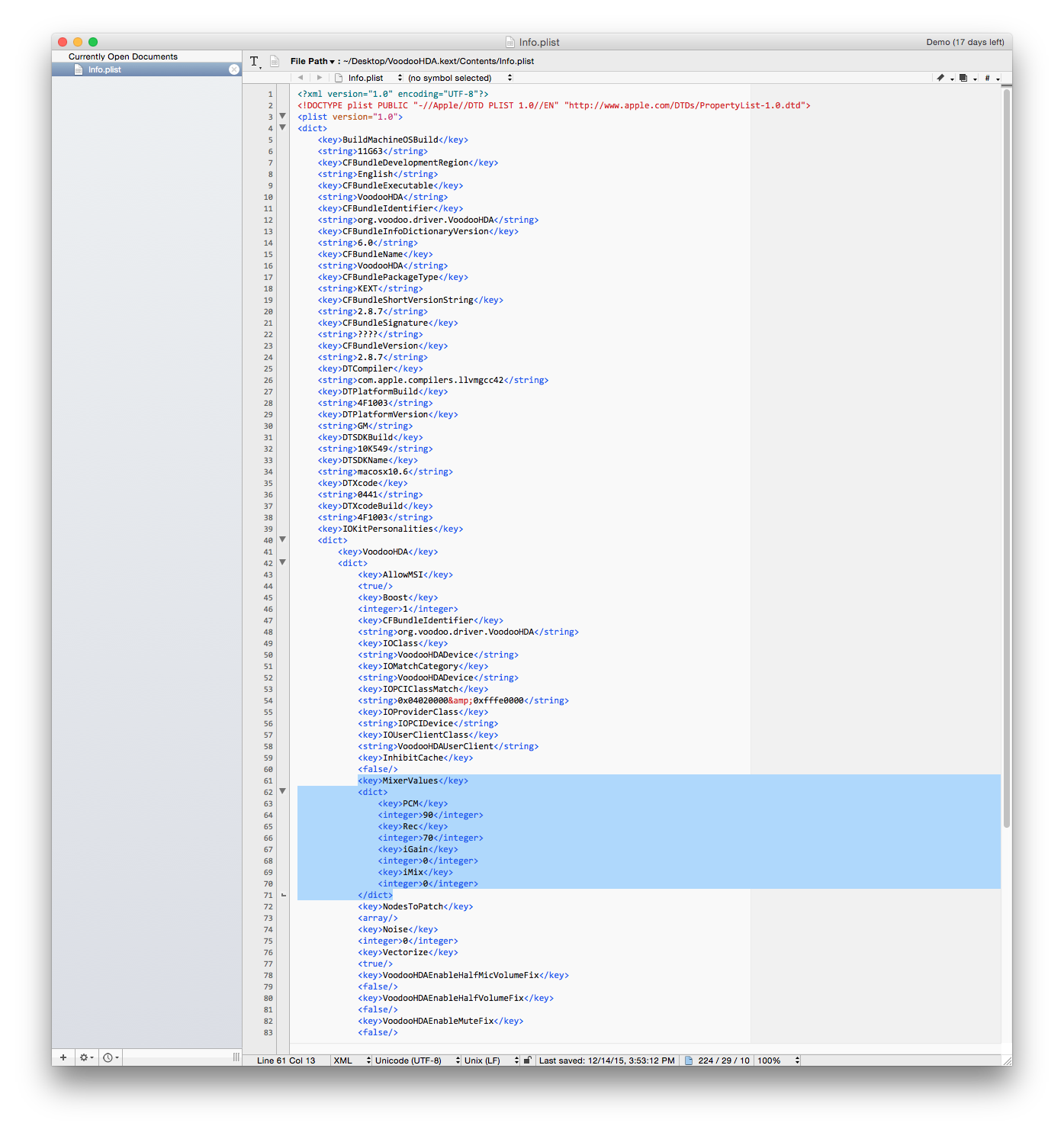 Thats it
Pictures
Updated 31st January, 2015: Added VoodooHDA guide.
Updated 10th December, 2015: Added audio tip.
Last edited: