TH13 Coffee Lake ATX:
MSI MEG Z390 ACE - i9-9900k - Radeon VII
*Screams in RGB*
​
Components
MSI MEG Z390 ACE ATX Motherboard
https://www.newegg.com/p/N82E16813144210
Intel Core i9-9900K Coffee Lake 8-Core, 16-Thread, Processor
https://www.newegg.com/core-i9-9th-gen-intel-core-i9-9900k/p/N82E16819117957
XFX Radeon VII DirectX 12 RX-VEGMA3FD6 16GB 4096-Bit HBM2 PCI Express 3.0 CrossFireX Support Video Card
https://www.newegg.com/xfx-radeon-vii-rx-vegma3fd6/p/N82E16814150820/

G.SKILL Trident Z Royal Series 64GB (4 x 16GB) 288-Pin DDR4 SDRAM DDR4 3600 (PC4 28800) Desktop Memory Model F4-3600C16Q-64GTRSC
https://www.newegg.com/g-skill-64gb-288-pin-ddr4-sdram/p/N82E16820232913/

MSI MPG SEKIRA 500X Mid-Tower Aluminum and Steel Computer Case Designed for up to EATX Motherboards with USB 3.2 Gen 2 Type-C, 2x Tool-Less Tempered Glass, and Five Case Fans included.
https://www.newegg.com/p/N82E16811320017

SAMSUNG 970 EVO PLUS M.2 2280 1TB PCIe Gen 3.0 x4, NVMe 1.3 V-NAND 3-bit MLC Internal Solid State Drive (SSD) MZ-V7S1T0B/AM
https://www.newegg.com/samsung-970-evo-plus-1tb/p/N82E16820147743/

SAMSUNG 970 EVO PLUS 500GB Internal Solid State Drive (SSD) MZ-V7S500B/AM
https://www.newegg.com/samsung-970-evo-plus-500gb/p/N82E16820147742/

CORSAIR Hydro Series, H115i RGB PLATINUM, 280mm, 2 x ML PRO 140mm RGB PWM Fans, Advanced RGB Lighting & Fan Control w/ Software, Liquid CPU Cooler. CW-9060038-WW. Support: Intel 2066, AMD AM4, TR4.
https://www.newegg.com/corsair-liquid-cooling-system/p/N82E16835181152/

EVGA SuperNOVA 850 P2 220-P2-0850-X1 80+ PLATINUM 850W Fully Modular EVGA ECO Mode Includes FREE Power On Self Tester Power Supply
https://www.newegg.com/evga-supernova-850-p2-220-p2-0850-x1-850w/p/N82E16817438056/
F
envi FV-T919 Hackintosh macOS Catalina AC1750 PC PCI-E Broadcom BCM94360CD Wifi Card Adapter, Bluetooth 4.0, Up to 1300Mbps (5Ghz) + 450Mbps(2.4Ghz), Wireless Dual Band 802.11ac, Airdrop / Handoff
https://www.newegg.com/fenvi-fv-t919-pci-express/p/0XM-00JK-00033/
Comments
Hey there! Quick intro, thanks for everyone's support and sharing info here on tonymac, I'd be lost without you all!
I snowboard for a living, but also am a digital content producer for GoPro and other various action sports brands. I've been building computers for a long time as a side hobby, and needed something new to edit all of my video footage. My old build was feeling pretty dated with a X79 board and 4th gen i7, and was just sluggish in handling my media workflow. I loved the GTX 1080 Ti, but new software only available for Mojave onward is forcing me to downgrade to an AMD card, so I figured I should update the rest of the system so I don't fully go backwards.
I will try and keep this post updated as I go and refine things. please if I'm doing something wrong, or could make my system better, please let me know and I can update this build guide with more info!
- MSI MEG Z390 ACE motherboard. It has lots of connectivity, onboard 10Gbps usb-c with 2 additional 5Gbps headers for external ports, RGB your freakin brains out. Only downside is that you cannot enable a headless iGPU on this board. there is no option to enable it from bios. more on that later.
- Intel i9 9900k fast and lots of processing power
- 64GB G. Skill TridentZ Royal RGB 3600mHz RAM. size and speed, and also the sexiest damn ram you've ever seen. can control the RGB thru MSI software (windows only) with G.Skill RAM
- XFX Radeon VII - I sort of hate this card. It's power hungry, runs hot, amd drivers are buggy on my windows 10 install for gaming. it's h.264 and HEVC support maxes out at 4K instead of 8K like the Intel UHD 630 IGPU, or a Radeon Rx 5700 XT which can encode/decode up to 8K footage. (useful for me when converting my 5.6k spherical footage from a GoPro Max camera)
- Samsung 970 EVO PLUS NVME SSD (1TB for OS X, 500GB for Windows 10) - work great, fast! needed to flash the latest firmware update on the SSD's for them to work.
- Corsair h115i Platinum 280mm water cooler - looks cool, keeps my processor pretty cool. allegedly has OS X software, but I can't seem to get it to recognize my cooler or control anything from OSX. I ended up setting up a custom fan curve from my windows 10 install, and that gets saved to the onboard memory of the cooler.
- MSI Sekira 500x E-ATX case - full size desktop case. looks really cool, lots of space, 4 HDD trays plus some SSD mounting options, lots of external USB ports (I have lots of external/internal hard drives plugged in at all times) external usb-c, has a RGB control button on the case which you can use to shut all the lighted fans off (trying to figure out if I can make it shut all the lights off, including my corsair water cooler, RAM lights, etc.. but I'm not sure if that's possible or not)
-EVGA Supernova 850 P2 Power Supply 850w - it's a power supply, not sure what else to say. modular, platinum rated.
-Fenvi t919 - wifi and bluetooth support for airdrop etc, plug n play.
More thoughts on my hardware:
MOTHERBOARD:
If I knew more about the IGPU thing, I would have gotten a MSI z390 Gaming Pro Carbon motherboard (the non wireless AC version) Here is a link to it: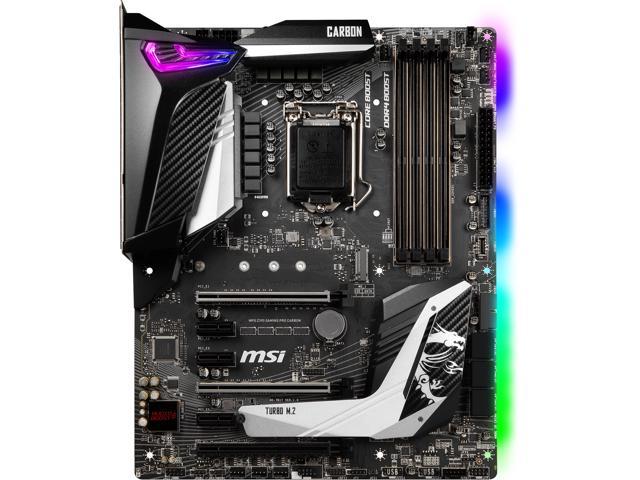 Buy MSI MPG Z390 GAMING PRO CARBON LGA 1151 (300 Series) Intel Z390 HDMI SATA 6Gb/s USB 3.1 ATX Intel Motherboard with fast shipping and top-rated customer service. Once you know, you Newegg!

www.newegg.com
This is because it has the motherboard settings to enable the IGPU. All the current MSI boards with a HDMI or video output on the motherboard will have the bios settings to enable your IGPU, where their current boards without any external port for display like my Z390 ACE in this build will not have the motherboard setting.
I'm not a MSI fanboy or anything like that, but I have some friends that work there and they occasionally float some parts my way. They really do make some cool stuff that I would buy even without any connection to them. I know the Hackintosh community kinda doesn't accept MSI for various reasons, but this motherboard exists, so I will hack it!
Radeon VII - I have been a non believer in AMD video cards my whole life. I always thought they were trash, but was scared to say I was a NVIDIA fanboy. I'm a NVIDIA fanboy. this card sucks. half the features in the driver software aren't usable because there are known issues where they cause crashes in games, like having the replay screen recording function enabled causes FN to crash nonstop. how am I supposed to save the clips now when I'm dumping on kids?! This card is also a piece of junk because you would think something with 16gb of video ram, and more parallel processing cores would have the hardware to support up to 8k h264 and HEVC encoding/decoding. nope. 4k is it's limit. this is important because a 4k h264 encode with hardware acceleration takes about 0:45 - 1 minute to encode 1 minute of video. without the hardware support, a 5k video takes 38-45 minutes to encode using the cpu. that's 40x slower. this wouldn't be a problem if I could have my IGPU enabled as the Intel UHD 630 supports hardware decoding up to 8k. Alternatively, if I get the FX 5700 XT, that card can support 8k. the 5700 and 5700xt currently are the only amd cards that support hardware decoding of h264 and HEVC up to 8k.
here is an article from the GoPro support site which I found interesting.
I wish I could just keep using my old 1080Ti.
Installation Notes
I am currently running Catalina 10.15.3
I followed a more vanilla guide route and did not use UniBeast or MultiBeast for anything really.
The only real hangup I had was mapping my NVRAM, but I got around that relatively easily for install, then I ran the memmap test, and calculated a slide value.
I am using SMBIOS iMac Pro 1,1 because I can't enable a headless IGPU due to a motherboard restriction, so it's better that I use a smbios that matches my setup more closely. the iMac Pro does not use an iGPU
I have not created any SSDT or DSDT yet
KEXTS:
FakeSMC.kext and all the sensors ones too
APPLEALC.kext (Audio ID inject set to 1 and AFGlowPowerState + ResetHDA both enabled in clover)
AtherosE2200Ethernet.kext
Lilu.kext
Whatevergreen.kext
ntfs.kext - so I can look at my windows drive
XHCI-unsupported.kext
USBInjectAll.kext
Currently I'm running USBInjectALL and XHCI-unsupported kext and the port limit patches in clover. I've been trying to map my USB ports, but I haven't had the most time, everything seems to be working fine for now. not really sure what devastating effects not mapping your USB ports can actually have. my first attempt, I was mostly successful, but my front panel USB-C port stopped working, so I reverted back to the port limit patch for now because I use both the front usb c and the back usb c ports on my computer.
Boot Flags:
dart=0
slide=128 - calculated slide value using memmap command. required for me to be able to run the installer successfully.
darkwake=8 - allegedly fixes sleep issues for some motherboards including MSI. I haven't noticed any sleep issues so far with this enabled.
uia_exclude=HS14 - disables the Intel WiFi/bt built into my motherboard until I map my USB ports
I had some other flags too like -v and maybe 2 other ones for debugging, but I've removed them until needed again.
DRIVERS:
ApfsDriverLoader.efi
AptioMemoryFix.efi (I used EmuVariableUEFI.efi and the OsxAptioFix2Drv-free2000.efi sketchy driver to handle NVRAM for install)
AudioDxe.efi
DataHubDxe.efi
FSInject.efi
NvmExoressDxe.efi
SMCHelper.efi
VBoxHFS.efi
First issues I ran into:
SSD firmware causing installer to hang:
My Samsung 970 EVO Plus NVMe SSD's needed a firmware update before I could install OS X to them. the installer would get stuck or restart halfway through when it would try to start copying files from my usb stick to the new system drive. you can find the FW update info on Samsung's website. you can flash it using a usb stick.
NVRAM:
ERROR: allocating 0x123d5 pages at 0x000000000c7c7000 alloc type 2
Couldn't allocate runtime area
What a surprise, no native NVRAM support. ended up having to use EmuVariableUEFI and OsxAptioFix2Drv-free2000 to get the installer to complete, once done, I needed to get rid of them and replace with AptioMemoryFix.efi and a slide= boot flag
CALCULATING SLIDE VALUE
I couldn't even boot into my USB installer without that error
Here is some great information and a how to on calculating a slide value for if your motherboard does not have native NVRAM support
Basically, run the memmap command, save the output to a text file on your desktop
start at the top of the list and look ONLY at the rows labeled 'available'
go down the column labeled 'start' and look for the first hex value which is bigger than 0. (obviously you tried AptioMemoryFix.efi with slide=0 and it didn't work, so now you're here). a hex value of 0 will 0 out the formula so we can ignore those. once you go down the list to the first hex value that's more than 0, you will need to open your calculator and set it to programming mode.
here is the formula:
(START COLUMN HEX - 0x100000)/0x200000 = Slide Value in HEX
0x100000 + (Slide Value in HEX * 0x200000) = Start column HEX value(if not then add +1 to your slide value)
so the reverse 2nd part of the formula is just to check and see if the numbers match up. if they do, then just convert your 'Slide Value in HEX' to a decimal number. if not, you add 1 to that converted hex number. for me it was 127 + 1 for slide=128 in my boot arguments.
the range of slide values is 0-256 so if your final calculated number is outside that range, keep looking. my memmap output appeared to go from smaller numbers at the top to larger at the bottom in order, so work from the top down. if you're using a z390 board that isn't known for having NVRAM support, this is one of the first hangups you will encounter.
Disabling onboard BT/WiFi
I had to find which port my onboard BT/Wifi was on using IORegistryExplorer and/or a helpful tool called usbmap.command that I found somewhere (I'll link it if I can find it again) so I could disable the non working intel onboard bt/wifi. I found it was on port HS14 for this particular motherboard, so I added boot argument uia_exclude=HS14 to my config.plist
note that this boot flag is built to modify UsbInjectAll.kext and will not work if it is not present.
this is a temporary fix until I map my USB ports
I am attaching some screenshots of my config.plist settings and will try to add more and keep this post updated as I find and fix random things. I'll include more details like my bios settings and benchmarks when I have time!
Hopefully this helps someone out there on the internet who's about to break a keyboard in half on their head.
Last edited by a moderator: