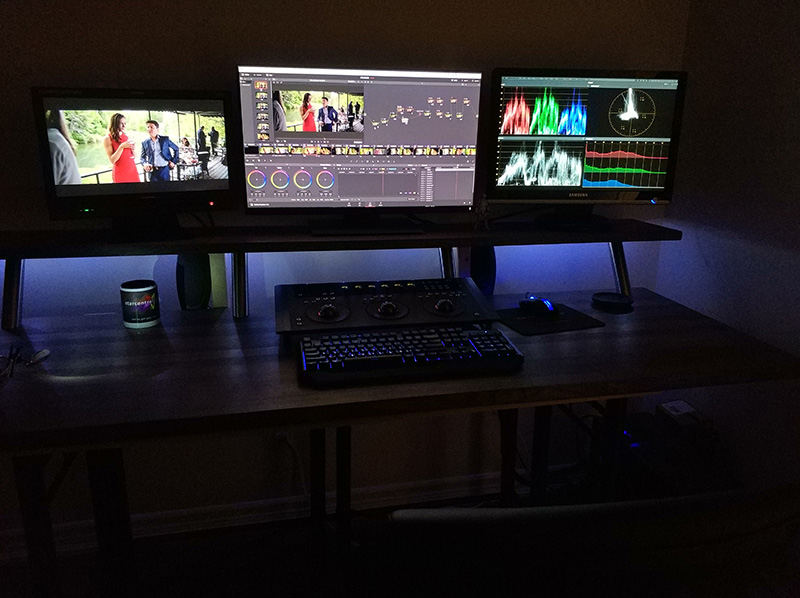 Intel core i7 4790k - Devil's Canyon / Haswell


Gigabyte GA-Z97X Gaming 3

(Intel based graphics,

Killer™ Ethernet E2200)

GeForce GTX 960 SuperClocked


Samsung 850 Evo 500GB


Corsair Vengeance 32GB RAM
CoolerMaster G650M 650W
Blackmagic Design Decklink mini monitor 4K SDI

Please also see other OSX version guides:

Z97x Gaming-3 I7-4790k GTX960 10.11 El Capitan -

Guide

Z97x Gaming-3 I7-4790k GTX960 10.12 Sierra -

Guide

Z97x Gaming-3 I7-4790k GTX960 10.13 High Sierra -

Guide

PREFACE​

I had originally installed 10.11 (El Capitan) on this hardware but in the last few days put an clean SSD in the machine and wanted to see how far I could get installing 10.12 (Sierra). The guide for my old 10.11 build can be found here:

https://www.tonymacx86.com/threads/ga-z97x-gaming-3-i7-4790k-gtx960-sc-killer-ethernet-e2200.186824/#post-1210980

I also have a newer High Sierra 10.13 build that can be found here:

https://www.tonymacx86.com/threads/guide-ga-z97x-gaming-3-i7-4790k-gtx960-sc-e2200-ac1150.286478/

I'm largely used this guide on this website but had to do some custom work along the way:

https://www.tonymacx86.com/threads/unibeast-install-macos-sierra-on-any-supported-intel-based-pc.200564/

PRE-INSTALL​

1. After downloading the Sierra install app from App store I used UniBeast 7.1.1

https://www.tonymacx86.com/resources/unibeast-7-1-1.333/

to create the USB. To create the USB I followed the steps as outlined here in the Sierra Desktop Guide. (see above link if you need it)

2. For UniBeast options I used Legacy boot mode and didn't check off any extra boxes under optional graphics configuration.

3. My bios is version F6. I have my bios setup this way:

Load Optimized Defaults

Peripherals>xHCI Mode>Auto

Peripherals>xHCI Hand-off>ENABLED

Peripherals>EHCI Hand-off>ENABLED

BIOS Features>VT-d>DISABLED

BIOS Features>Boot Mode Selection>Legacy

Save and Exit

4. Install went very smooth. No issues to install the base OS X 10.12.

POST INSTALLATION​

After restart OSX had low resolution, no sound and no network access. That is where MultiBeast comes in:

Running the MultiBeast:

Under DRIVERS I selected AUDIO and then selected the ALC1150 option. DISK I skipped past. Under MISC I selected all three FakeSMC's. For the NETWORK options I selected AtherosE2200Ethernet v2.0.1.

Next I selected BOOTLOADERS and selected Clover UEFI Boot Mode.

Under the CUSTOMIZE option and under SYSTEM DEFINITIONS I picked iMac 14,2. SSDT options nothing is selected. 'Graphics Configuration' nothing selected.

Now I'm ready to BUILD it so make sure the right install drive is chosen, in my case it's "Sierra". I click INSTALL and shortly after success!

It's time to shut down now, pull out the boot USB and reboot into OSX 10.12 off the SSD.

After reboot sound was working, but not ethernet. I would sometimes see this message after several minutes idling in the OS X.

Next I decided to get the Nvidia 960 SC graphics card working.

GRAPHICS CARD GTX 960 SC​

I installed the cuda driver first. cudadriver-7.5.25-macos.dmg which you might be able to search online or download from here.

http://www.nvidia.com/object/mac-driver-archive.html

I then tried a Nvidia drivers but got error message saying I must be on 10.12.6 to proceed - but I am on 10.12.6 so the solution was to try other (probably older) drivers. I found this driver WebDriver-378.05.05.25f01.pkg which worked. Rebooted and graphics were working proper now.

E2200​

In multiBeast I tried all three versions of the included E2200 drivers but none of them worked. I started researching and came across these steps which worked for me and got my network adapter working.

Remove /Library/Extensions/AtherosE2200Ethernet.kext

Download

KextBeast 2.0.1

and

AtherosE2200Ethernet-V2.2.0.zip

1. Place AtherosE2200Ethernet.kext from /AtherosE2200Ethernet-V2.2.0/Release/ folder on your desktop.

2. Run KextBeast installer

3. Select the destination folder: /Library/Extensions

4. Reboot

What's next?​

Next to test is USB 3.0 and install some softwares!
[Jan 15th - Continued...]​
My USB 3.0 ports would not read any of my USB 3.0 external hard drives. There are plenty of fixes on this website after searching and spending hours reading, the one that seemed to work for me is
Renaming EHCx->EH0x in DSDT which you can read about here: https://www.tonymacx86.com/threads/guide-10-11-usb-changes-and-solutions.173616/
As for USB 3.0 speed, with a modern usb 3.0 hard drive my speed test was 40 MB/s which seems slower than I would expect. I will keep researching and testing.
Last edited: