Hello everyone!
That's my "beast" :
​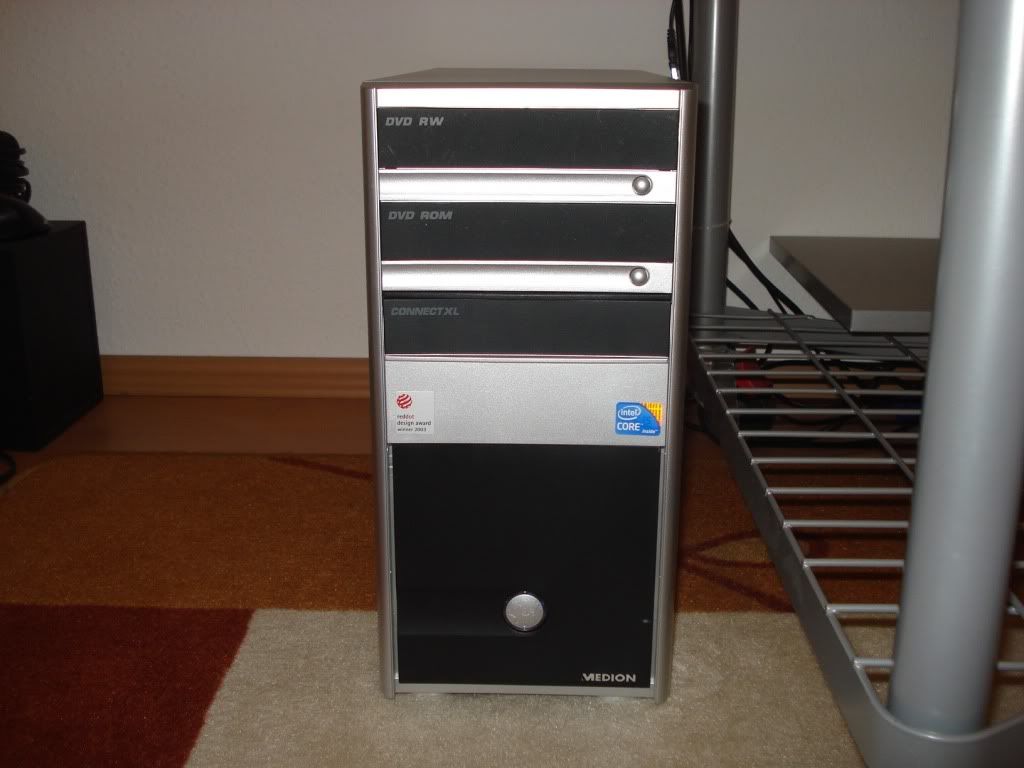 Hardware :
Motherboard : GA-H55M-UD2H rev 1.3 = 89,95€
CPU Cooler : Arctic Cooling Freezer 13 = 25,22€
GPU Cooler : Arctic Cooling Accelero TWIN TURBO Pro = 28,26€
CPU : Intel Core i5 760 (4x2,8Ghz) = 189,95€
GPU : XFX Geforce 9600 GT 512 MB (owned before)
RAM : 2x Corsair XMS3 4GB kit (4*2GB) = 2x 54,95€ = 109,90€
PSU : beQuiet 350W (owned before)
APU : Creative Xmod USB = 60€ (?) ebay
HDD : WDC WD10EALX 1TB 7200RPM = 64,50€
DVD : TSSTcorpCD/DVDW SH-S183A (owned before)
Total ~
567,78€
without shipping and components I owned before...
Software :
Mac OS X 10.6 Snow Leopard Upgrade Disc
Windows 7 Ultimate 64-bit (present)
My Steps for Mac OS X (As far as I remember) :
- BIOS
- Update to F11
- Enable optimized settings
- Change HPET to 64-bit
- Correct the boot priority
- Some tweaking (quick boot, no logo, etc.)
- Installing Mac OS X
- Boot from iBoot CD
- Then boot Mac OS X Install DVD
- Create Partitions
- Install
- Reboot
- Boot from iBoot
- Install 10.6.6 Combo Update (DO NOT REBOOT!)
- Put DSDT.aml on Desktop
- Run Multibeast :
My Settings
:
- UserDSDT Install
-
System Utilities
-> Rebuild Caches
-> Repair Permissions
-
Drivers & Bootloaders
->
Kexts & Enablers
-> Audio -> Realtek ALC8xx -> ALC8xxHDA & AppleHDA Rollback
-> Disk -> JMicron36x -> JMicron 36x eSATA
-> Graphics -> Enablers -> NVEnabler
-> Miscellaneous -> FakeSMC & FakeSMC Plugins
->
Bootloaders
-> Chameleon 2.0 RC5 - Prerelease
-
Customization
-> Boot Options -> 64-bit GraphicsEnabler=
No
-> System Definitions -> Mac Pro -> MacPro 3,1
Install Lnx2Mac's Realtek driver.
- Reboot!
- Finish the installation
- Update iTunes, Safari, etc.
- Install Applications
- Start Migration Assistent and copy the user-folder via network to the new hackintosh
- Reboot
-
The End
------------------------------
Everything works! Graphic card worked out of the box in 32-bit, but needs NVEnabler for 64-bit (otherwise it will panic). VGA lags a bit (movie stops playing while moving a window), but DVI works like a charm with my 24" Benq G2420HDB. It even works on our Sony Bravia FullHD TV with a DVI->HDMI Adapter. ATM my build is very quite. It's built into the case of a old Medion Titanium 8008 preconfigured PC from ALDI. I really like this case, as it is very stable and beautifull. Sleep, Audio, Network, Graphic, Virtualization (VMWare Fusion & VirtualBox), Rosetta works without big problems. But there are a few issues :
I can't boot from iBoot anymore, as it's giving me kernel panics. Even in safemode. I will post the log later. And since I switched to 64-bit, sometimes the system doesn't load. OS X loads, the fans get quieter and the screen goes black. Will post this log too. But all in all I'm very amazed by my new hackintosh. You can't compare this build to my old 1,6 ghz mac mini. I'm really amazed by the power of the quad-core. And it's even cheaper than a new mac mini (709€).
------------------------------
Thanks to : tonymacx86, macman, lnx2mac, Burninator, and so on....
And thanks to Daddy for sponsoring my new pc/mac.
assoricks
Additional Information :
- FireWire works! Tested it with my external iSight camera.
- +30 fps more on GTA IV at medium settings without shadows
- Tripple boot with Mac, Windows 7 and Arch work's wonderfull. But Windows doesn't detect the 5th partition (guess it has something to do with primary partition limit of 4)
- MacDrive mounts the OS X drives without any hassles
- Paragon NTFS 8 and Paragon ExtFS for Mac do their job
- Sound is much better when using the Xmod USB soundcard
- My 12 years old (!) Creative SoundBlaster Live! PCI worked well on 64-bit with drivers from kxproject. But I replaced the live because of the new GPU cooler, which needs more space. But the "new" Xmod works without any drivers and out of the box. Sound quality is equal to the SB Live!
Temperatures and other stuff :
CPU idle ~41°C (CPU A, iStat Menus 2x)
CPU Prime 95 ~72°C
GPU idle ~39°C (GPU-Z, Windows)
GPU GTA ~49°C (afair)
HDD ~39°C (iStat Menus 2x)
Sleep : ~4sec.
Wake up : ~5sec.
Power consumption :
Mac Idle ~80W
Mac Sleep ~3W
Cinebench CPU ~145W
Cinebench GPU ~135W
-------------------------
Windows idle ~65W
Windows Sleep ~3W
Windows GTA IV ~150W
Cinebench 11.5 scores :
CPU : 3,76
GPU : 20.58 BpS
Installed OS X with iBoot 2.5.3 and Multibeast 3.0.3
PS : Sorry for my bad (?) english. I'm from Germany.
EDIT : After cleaning the /Extra folder, the iBoot disc works again.
EDIT 2 : 10.6.8 works, but you have to replace some new kexts with old ones.
(AppleACPIPlatform.kext), (IOPCIFamily.kext) from 10.6.7 .
(
http://tonymacx86.blogspot.com/2011/06/ ... 6669373371
)
Download link :
http://www.mediafire.com/?u6sietuh5b0rh6t
Go into /System/Library/Extensions/ and replace the new kexts with the old ones from the package. You must rebuild your kext cache and permissions!
Big thanks to "und3rf0rce"!!!
If you've almost updated and the system hangs on [PCI Configuration Begin] :
Boot with iBoot and then type "-v DSDT=No". Then do the kext thing.
PS : I also updated Chameleon to Chalmira : GPU now works without NVEnabler!