Hey guys!
So i have a teeny tiny problem that I can't seem to fix.
So i finally got Mac OSX 10.6.3 installed on my dual booted computer, right? (I took out the other HDD) I used the update helper before doing the update because my cpu is a sandybridge intel core i7, but when I ran the updater when it was 3/4's done (about 1 minute left), I got this screen: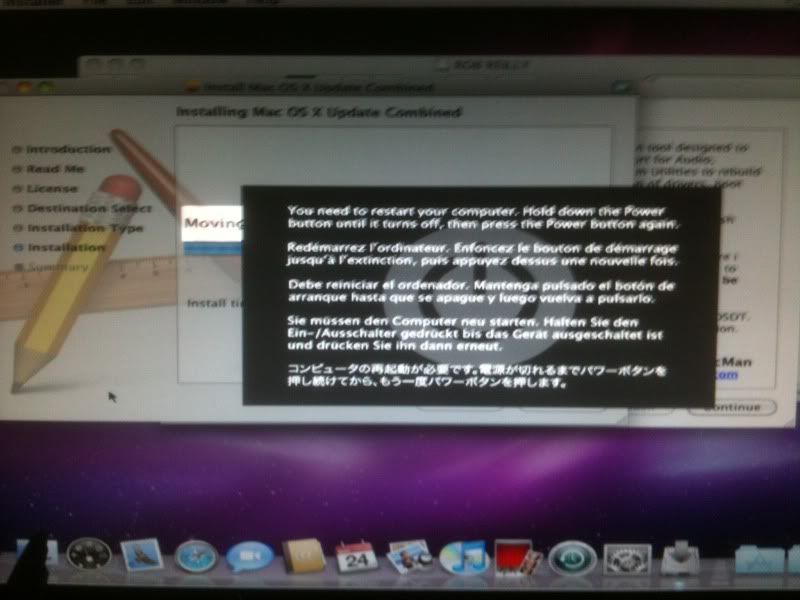 This has happened twice so far. So I can easily go back and redo this as many times as I please, but I keep getting the same result. When I try to get into the mac after this error through iboot (since I can't get to the multibeast part), it won't let me in regardless if I use GraphicsEnabler or safe mode, or those other codes.
I suspect it may be my graphics card, which is a GeForce GTX 580, because in order to install this thing in the first place i had to use the GraphicsEnabler code. My monitor is hooked up to the graphics card, maybe I should hook it up to my motherboard instead? Or unhook my graphics card entirely while doing this?
I am aware of tonymac's Nvidia post about these graphics cards
http://tonymacx86.blogspot.com/2012/03/optimizing-nvidia-geforce-4xx-and-5xx.html
but I can't get to the multibeast part to actually do anything. And should I run CUDA before I do the update, or will the update remove it?
What should I do?
Edit 1:
I am posting what I have on my custom build:
Motherboard:
http://www.newegg.com/Product/Product.aspx?item=N82E16813121506
CPU:
http://www.newegg.com/Product/Product.aspx?item=N82E16819115070
Graphics Card:
http://www.newegg.com/Product/Product.aspx?item=N82E16814130590
Also, in multibeast, I don't see any Nvidia options in the Graphics section as stated in this post:
http://tonymacx86.blogspot.com/2012/03/optimizing-nvidia-geforce-4xx-and-5xx.html
And I cannot update the Nvidia with the driver I downloaded. I get stuck on a specific screen. I will attach the photos. Please help. (sorry. I can't seem to make these images smaller no matter how much i resize them...and the uploader didn't work on here either)